Boho Jewelry Fun: Bracelets, rings and earrings from the Levant. This is my new collection of handmade jewelry - by Karboojeh Jewelry. I had great fun working on these, and more, to be revealed soon inshAllah.

The first piece is called the Karboojeh Color Power Boho Bracelet. The three wooden rings above are nicknamed, Karboojeh Wood & Blue Boho Rings. The three earrings below are just a sneak peak into a boho earrings collection I might reveal here or over at my other blog karboojeh.wordpress.com.
I made a couple of key-accessories, I am showing one here below. I'm calling it, Karboojeh Blue Levant Key Charm.
I'm particularly in love with seed beads (little glass beads that if stacked together can make a big impact): In this piece, turquoise beads go lovingly well with bronze. This (below) is called, Karboojeh Mixed Brass Levant Pendant Necklace.
And here is its sister, Karboojeh Mixed Levant Pendant Necklace.
That's it for now. Take care… :)
(Source: karboojeh)
The method behind what's boho. This photo is for those who make jewelry, like myself, with a bit of an insider look on "technique."
Packaging Inspiration from Anthroplogie. An enclosure of generously gilded leather enveloping: hand-bound pages wrapped by a tassel cord.
Vintage nomadic boho: Mirrors on Pillows. Gypsy belt from an Indian accessories tradition.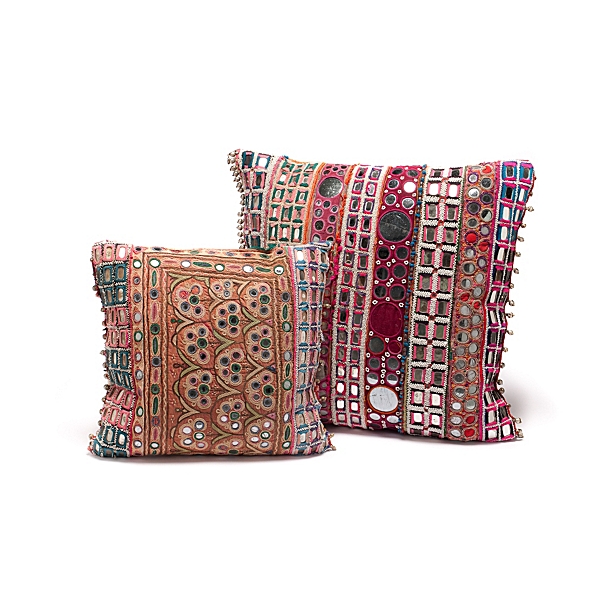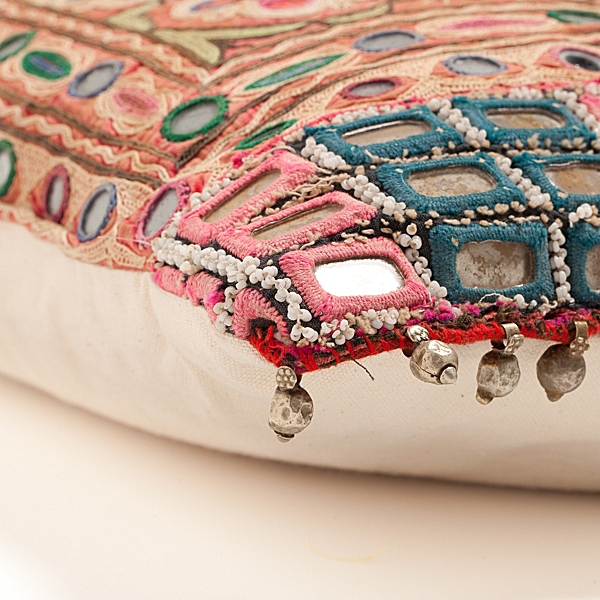 Boho Cushions for Comfort. Indian mirrored cushions.
Anthropologie ethnic cushion. Beautiful colors & prints.
Pom Pom beauty. A fusion pom-pom necklace marrying different jewelry-making techniques, found at Anthropologie.
Tasseled Boho Necklace. Anthropologie is now posting this necklace on their website, and it is an absolute darling.
I posted an older tutrorial about making your own tassel on my other blog, karboojeh.wordpress.com.
There, you can also find a little story about the origin of tassels, and how it relates to my culture & spirirtual heritage.
Tassels are everywhere in the Levant. They are part of daily life, rather than being a fashion trend that comes & goes.
They adorn prayer rosaries, and go all the way to decorate curtains, cushions, and so many other decorative items.
Now they are on necklaces and bracelets; which is not their usual place.
My personal belief, without really researching my claims, is that Ottomans spread 'the tassel' in the world!
I love tassels!
Let's not forget to go back to wire-lashing, and again it's a necklace from Anthropologie…
(Source: karboojeh)
Blue Boho-chic Jewelry. The Mediterranean is a melting 'sea' for civilizations that have their own interpretation of the color blue. Blue is most prevalent in ethnic jewelry that hails from places like Morocco, Istanbul and even Sham Sherif.
In this collection, I share a number of necklaces handmade by Kaboojeh Jewelry, in an attempt to modernize and enliven a culture of 'blue.' I have deep respect for everything old, so my attempts here are merely a form of self-expression. I'm simply not good at mimic-ing other people's work.
The first necklace is a Karboojeh 'One Blue' Chain Necklace, followed by Karboojeh Sham Blue Chain Necklace, and the one below is called, Hand of Fatima pendant necklace by Karboojeh Jewelry.
———————————————————————
All jewelry & photos are originally by Karboojeh Jewelry
Handmade, vintage, boho, necklace from the Levant. The center glass piece spells: Allah. It sits on a handmade crochet flower, with vintage beads that used to be part of an old pair of earrings. A golden vintage clip-on earring, snuggles nicely below the blue glass focal piece.
In Ottoman times, wearing the name 'Allah' was for protection and remembrance of the love of God. This necklace has something holy about it, it needs to be treated with utmost respect.
————————
Original work and photo by Karboojeh Jewelry
(Source: karboojeh)
Blue boho bracelets. The theme of these handmade bracelets is "The Sky loves the Sea". Together they can mix colors to create a canvas of blue, turquoise and green-blue on the sea surface. Both Sky & Sea are God's ancient 3-in-1 brush, paint, and canvas.
Here in the Levant and the Mediterranean, the sea is really blue. I saw the ocean when I was in England, and it was grey, so I guess the Mediterranean has a special glow to it. I guess Italians would agree :)
These bracelets are handmade by Karboojeh Jewelry using beads that remind us of the color blue in several possible marriages of color and variation.
—————————————-
P.S. All photos are by Karboojeh Jewelry & are taken by me, the creator!
(Source: karboojeh)