Handmade, vintage, boho, necklace from the Levant. The center glass piece spells: Allah. It sits on a handmade crochet flower, with vintage beads that used to be part of an old pair of earrings. A golden vintage clip-on earring, snuggles nicely below the blue glass focal piece.
In Ottoman times, wearing the name 'Allah' was for protection and remembrance of the love of God. This necklace has something holy about it, it needs to be treated with utmost respect.
————————
Original work and photo by Karboojeh Jewelry
(Source: karboojeh)
Blue boho bracelets. The theme of these handmade bracelets is "The Sky loves the Sea". Together they can mix colors to create a canvas of blue, turquoise and green-blue on the sea surface. Both Sky & Sea are God's ancient 3-in-1 brush, paint, and canvas.
Here in the Levant and the Mediterranean, the sea is really blue. I saw the ocean when I was in England, and it was grey, so I guess the Mediterranean has a special glow to it. I guess Italians would agree :)
These bracelets are handmade by Karboojeh Jewelry using beads that remind us of the color blue in several possible marriages of color and variation.
—————————————-
P.S. All photos are by Karboojeh Jewelry & are taken by me, the creator!
(Source: karboojeh)
My boho bracelet carries memories from the Levant. A cowrie seashell from the 'Barjees' fabric-based board game (famous in Turkey, Syria, and the Levant), nestles happily on a leather chord, next to wooden and seed glass beads. The relatively over-sized clasp is my favorite signature item used in most of my handmade bracelets. In the picture's center, the natural-looking wooden bead reminds me of cardamom, often used to aromatize bitter-sweet Turkish coffee.
————————————
(Words and Photo are by Karboojeh Jewelry)
(Source: karboojeh)
A touch of boho hair-love. It's quite possible to transform one's whole looks with a comb like this, especially if you keep on changing the fabric/ribbon you weave into the comb. I never liked those combs. Now I do.
———————————————————-
(Via P.S. I Made This)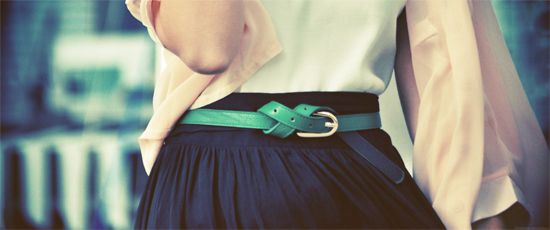 What a neat and fashionable way to tuck in a belt!
A nice double-take on belt-plus-scarf 'belting'.
Nice way of handling a thick leather belt. And why not have the buckle sideways?
I think this one and the one below are the same. But it's nice to see it on two different belt types. Gives a better visual.
I'm really lovin' the braided belt.
Tucking it from the right (her right).
Pictures in order of appearance are via: