I just found this great tutorial for transferring photos onto fabric - economically. Summary:
Homemade "mixture" to get more vibrant colors when printing on fabric: Mix 2 tablespoons of Alum (found in the spice section of your grocery store), 2 1/2 teaspoons of Washing Soda (found in the laundry section) and 1/2 teaspoon of liquid fabric softener.  Then add one cup of hot water. Soak 100% cotton in this for 15 minutes. Dry. Iron on freezer paper - sticky side onto fabric. Stick in the printer; fabric side up.
——————————————

For More Detail, Here is an Edited Excerpt from the Tutorial I Found at infarrantlycreative.net (for Full Tutorial, go to the same link):
——————————————

Custom Bean Bags
Did you know you don't have to buy those fancy schmancy fabric printer sheets to have quality printed fabric?  Did you know you don't have to buy that fancy schmancy solution to soak your own fabric in beforehand?  Here is a quick no-fail recipe to get the best results with the most vibrant colors when printing on fabric…
Mix 2 tablespoons of Alum (found in the spice section of your grocery store), 2 1/2 teaspoons of Washing Soda (found in the laundry section) and 1/2 teaspoon of liquid fabric softener.  Then add one cup of hot water.
Mix it in a bowl bigger than you think because it foams up when you add the water.  Stir. After a few minutes the foam will disappear.  Next soak your 100% white cotton fabric in your solution for 15 minutes.
After fifteen minutes is up wring out all the excess liquid.

Wait!!!  Can't I just print it out on fabric since the bean bags won't be washed?  The solution gives you more vibrant colors and if they should get wet they won't bleed.  This recipe is perfect for quilters who want to add pictures to their work as well.
Store the remaining solution in a container and mark it well to use at a later date.
Next dry your fabric.  I hung mine to dry overnight.  But if you are an impatient crafter, you can put it in the dryer. 
Next grab some freezer paper (found near the tin foil and Ziploc bag section) and iron your fabric to the shiny side of the freezer paper with a hot, dry iron.
Once your fabric is stuck to the freezer paper cut it into 8 1/2" x 11" rectangles.  Iron one more time after cut just to ensure that the fabric is stuck well.
In whatever program you choose, size your pictures (I chose 4" x 4" images) and print them onto your fabric.  You can change your printer settings to the best print quality on fabric if you have that option.  Make sure you print on the fabric side and not on the back of the freezer paper.
Cut out your printed fabric to size.  I chose to do both sides of the bean bags with a picture.  Of course, you can use just regular fabric on the backside.
——————————————
Chalkboard rustic idea. I just came back from a craft show that took all my energy. But this doesn't mean I'm not going to post a mini DIY idea over here at Tumblr.
You need:
A wooden (or bamboo) artist's palette. If it is already varnished go ahead and spray paint it, if it is raw, you need to prime it.
Chalkboard spray paint from Ace - Krylon.
A cardboard box to use as safety net for spray-painting the project. Place the palette inside and go ahead and spray 2-3 coats. Make sure to give each coat at least 1/2 to dry.
Use the chalkboard 72 hours later. The can says you need to run a piece of chalk horizontally against the surface and to wipe it off before using it. Maybe this is meant to condition the surface before writing on it.
You're done. Happy chalk-boarding,
Karboojeh
—————————————-
P.S. The The chlakboard in the picture is painted by Karboojeh Handmade Jewelry. It first appeared in this post, titled "Handmade jewelry display 101: Karboojeh's journey in the world of craft shows", describing the craft show we've been to recently.
—————————————-
Vintage meets Rustic basket. Beautiful baskets make a difference. Storing bottles, makeup, and even boho jewelry and accessories, can become less messy if they are put in the right container. And not any container; a see-through basket made of lovely chicken-wire.
I made this chicken-wire basket using easy steps (but gotta admit the wire did poke me a couple of times - so gotta be careful).
Ingredients:
~ Chicken wire
~ Burlap
~ Rope
~ Pliers
~ Wire-cutter, or strong scissors
~ Cardboard (to be tucked underneath the burlap bottom for more security.
(Both photos of bottles-in-chicken-wire-basket are originally by Karboojeh Jewelry)
Method:
Cut the chicken-wire sheet into, say, 30x50cm (or whatever can become a tube shape, wide enough or narrow enough for your needs).
Run a twine thread through the two flaps of the tube to secure it, use pliers to tweak loose wire endings onto themselves (which is a bit pokey, so wear garden gloves). You can later on cover up the area where the flap meet with burlap-over-cardboard so the wire thongs won't poke you every time you're around the basket :)
For the bottom, fold the tube onto itself to create a closed bottom; use free-soul common-sense to secure the bottom by applying some wire-and-plier action.
Cut a piece of cardboard and another one of burlap to be placed at the bottom of the basket, by tracing the bottom from the outside. Tuck them in one after the other.
Rope is more of decorative than anything else if you're going to use thise basket for heavy things. But if you want to 'hang' it, it can very snugly carry your ribbons, head-bands, combs, and feathers.
You're done. I'm not into step-by-step tutorials because I think each one of us has a different skill-level (and patience), so I guess you need to go boho on this one and experiment a bit to make your own design.
P.S. You can add flowers, decorations, or whatever you like, to the exterior part of the basket to make it your own.
A touch of boho hair-love. It's quite possible to transform one's whole looks with a comb like this, especially if you keep on changing the fabric/ribbon you weave into the comb. I never liked those combs. Now I do.
———————————————————-
(Via P.S. I Made This)
Inspirations for things I want to make…
Pebble coasters… they look great. Check this one out… (pic via)
For a while, I've been pondering the light-bulb crafts… isn't it so beautiful?!
(via pinterest)
I'm also a lot into bathroom accessorizing lately. I'd like to make something like this happen in my own bath space.
(via Third Floor)
And while I'm at it, I'd like to make a cabinet with chicken-wire doors, like this one here…
(via Bella Maison)
I'm also hoping to indulge into some rope crafts…
(via Pinterest)
Update: And here is the ultimate organizing kit…
Speaking of organizing tips & on a more personal front,I'd like to decorate my boring wire hangers like this…
(tutorial via betweenthelines)
I'd also like to make this easy coat hanger using a tree branch…
(via Appartment Therapy)
Fresh update: More stones… i think one can make a lot of things with pebbles, wire, and chicken wire (a door mat, a bathroom decoration thingy, door stoppers…), here is a lovely example…
(via freshhomeideas)
I just spotted this great recycling idea. It's so original and beautiful. Forks can be repurposed in so many different ways, but turning them into a picture holder is a new!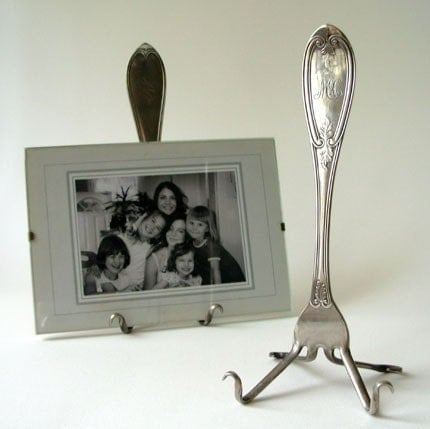 (via Etsy's recycleeh)
Oh, yes, I almost forgot my obsession with shabby chic bird cages…
(via Selina Lake blog)